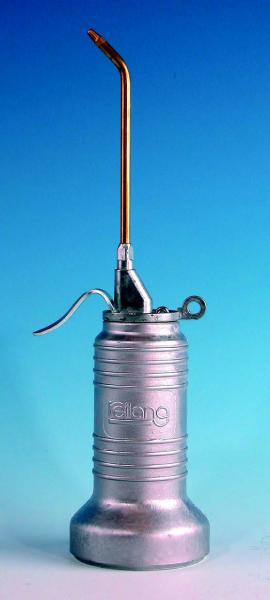 This product is currently not available.
Order number:

RL010018

GTIN-13 (EAN)

7640144520106

Weight:

1 Kg

Customs tariff number:

82055970

Country of origin (COO): Germany
The standard precision oil can with ball oiler tip. The Merkur oiler from Reilang is...
more
The standard precision oil can with ball oiler tip.
The Merkur oiler from Reilang is manufactured to the highest standards in Germany. No compromises were made in the design and material selection.
The oiler is used in industrial, manufacturing, service and hobby applications.
The ergonomic design is the result of countless tests. No matter which container size suits your needs, the profi oilers all share the same handle size equipped with the "safe grip" structure, so that the user can continue to work precisely and comfortably despite dirty hands.
The all-metal pumping station contains a main pump and a top pump, which in connection with the pivot bearing sucking piston allows you to work in any position. During successful tests super- vised by the REILANG Quality department, pumps managed over 500'000 strokes with no notewor- thy damage. All components are threaded and can be supplied as individual replacements or as spare parts kits.
It is as precious as a swiss watch and is inherited from generation to generation.
usable with all oil viscosities and for synthetic lubricants
oil reservoir made from: aluminum
double pump made from: brass
A service package for this oiler is available.